Kristina Weiserova / 113kw
Kristina Weiserova (pseudonym 113kw is using since 2005) is screenwriter, director, producer, audiovisual artist, metaverse architect and event producer, author of 35 minutes drama comedy movie Roots In Ego (Where does evil come from? ) .
Kristina was born in 1985 in Prague, Czechoslovakia, before the Velvet revolution, in socialism era.
She grew up in the Old Town / Prague 1, when she was 12 their family moved to Prague 22. This has affected Kristina's art, as she got to know different types of people. She grew up in artist family, her grandfather was important Czech architect Frantisek Cubr (head architect in EXPO 58 and EXPO 67 Czechoslovakia teams), her mother is painter Magdalena Cubrova, and her father is special effects specialist and cinematographer Antonin Weiser.
Since early childhood Kristina wanted to be filmmaker, or work in television, as she, thanks to her upbringing, got to meet filmmakers and since young age she knew she wanted to be one of them. She was doing as a kid VHS camera short videos in the 90's but only after finishing high-school, she did her first short movie (in 2004) while also started gaining experiences with filmmaking as Extras, and later also Clapper. She was working on Czech television series, while also working as booking manager in music clubs, she came across VJing, and was also active for quite some time in this field. Asside from this, she was studying journalism with culture and audiovisual specialization, and later also film writing, history, theory and also theatre writing, history and theory.
We can say Kristina likes to call herself culture scientist. Thru years, she gained more experiences in working in film crew (Barrandov aka main Czech film studios), and television on various crew positions. She has done more short videos, and later was part of documentary project Shorteknomovie (2008, 2009) that was independently distributed across Czech cinemas and also on DVD. It was about Czech alternative music scene sound-systems and free parties philosophy. After these two years screening of multiple documentaries, while still gaining experiences on bigger projects, she also started her documentary project Eye on DJ (2015) distributed on YouTube, where she portrayed important electronic music artists not only from Czech republic. This project has ended due to problems with people that were working with Kristina, where she first met with the fact, that some people are prevented from working on meaningful projects by their abuse of drugs. Kristina struggled to find someone trustworthy to build the project with and therefore it ended after couple videos.
In 2013 she wrote a script for 35 minutes movie. Against many obstacles, she managed to be able to produce, direct and distribute movie Roots in Ego / Where does evil come from? (premiere 2017) about parties, drugs and philosophy, that took inspiration in philosophy book from Paul Brunton, Notebooks. The 35 minutes movie was independently distributed in cinemas around the Czech republic together with music parties, as there is music from 12 music producers in different genres of electronic music, while also art exhibition of artist, involved in the projects with their designs. Some events included workshops about drug harm reduction. In the movie starred known actors, from Czech theatre and film scene, while also some real people. The movie was also part of Czech and Slovak Film Festival of Western Australia, Perth. There was also screening with music party. In past years, Kristina has been working on new scripts, while also working as camera operator and production assistant in television production, photographer, journalist, and event organizer, and special effects consultant.
Since 2021, Kristina is full time creating NFTs, building in the metaverse and actively sharing knowledge with the rest of NFT community, while providing various services in the field.
Kristina 113kw and Crypto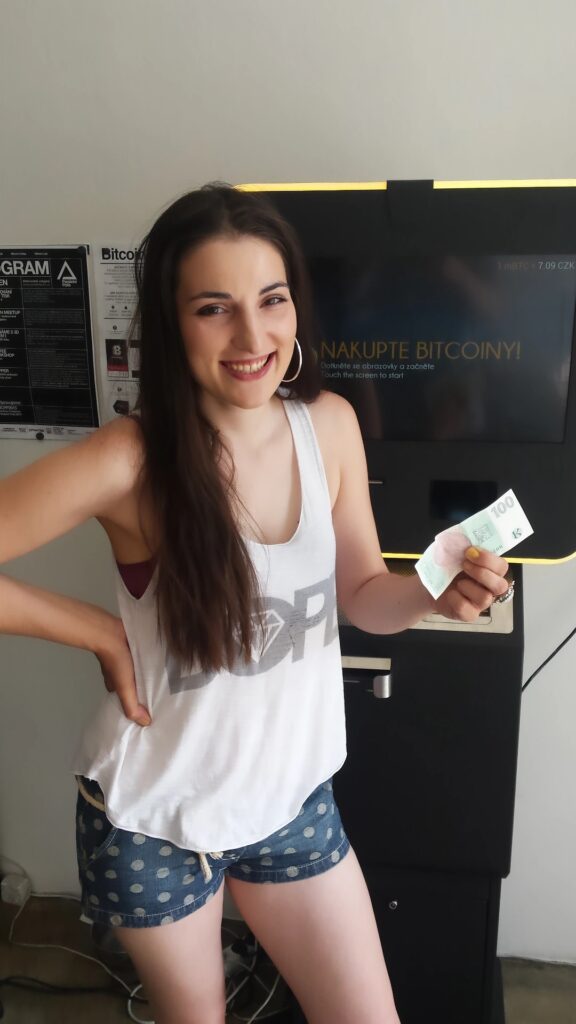 Kristina learned about BTC in 2009. As she say, she didnt get it until 2014, she thought it will be only payment in some online games. Than she shocked found out, that people are actualy willing to pay real money for it, but thought it will never have higher value, than it already had. She later started to regularly visit Bitcoin coffee in Prague, paying there with BTC for coffee, sandwiches, crypto workshops or bag with a logo. Now these payments are visible on her blockchain together as 10 BTC, coffee for 20 thousand dollars 😀 . Price for experiences!
Then, when ETH was born, and people were buying 500 ETH for small price, Kristina again thougt "shitcoin" and it will never be massively adopted. She was again wrong 😀 and when in 2017 heard about NFTs, she again though "why would I want pixelated picture of a cat or punk" because she was at that time busy with her film premiere and distribution all around the world. In 2020 she became closer to NFTs, but it took longer time, before she first minted something, and it was project rarepizzas.com , that is inspired by the story of Laszlo, who bought two pizzas for 10 000 BTC . Than she didnt minted BAYC, because she took one day off clubhouse after being there 24/7 for many weeks, and that day, was the day, when everyone minted apes. Later she tried buy ape, and when she finaly had, they were already too pricey, and never went down with the price since (currently at around 100ETH). Kristina has witnessed the birth of the cult, and is currently happy APE coin hodler, because she believes that this collection and BAYC ecosystem is going to be on a constant rise and will contribute to massive crypto adoption in the near future.
Kristina is now actively working on metaverse, discord and you can get her NFTs or directly support her.
BIO 113kw Kristina Weiserová